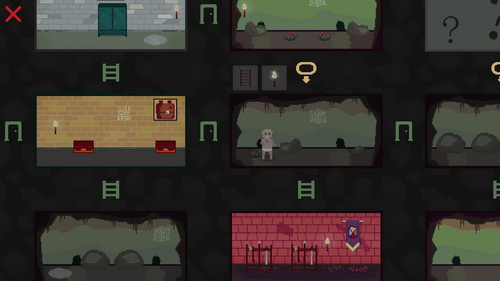 Greetings. First of all thanks to everyone who supported and bought the game! I am planning to release updates on a weekly basis, so follow me if you are interested.
UI/UX improvements
Deployable items that can be used are now displayed as buttons above the room
Interactable rooms and items are highlighted when you hover mouse over them
Added gold sprites that would be displayed when looting chests/shelves
Updated visuals for 'dark' rooms
Rooms without light sources now look darker and have grayscale effect. This should make them more distinct and add variety to the game level.
Balancing
Made early game a bit easier
Armor now more durable and a little cheaper
I found out that I forgot to add backpacks to the loot tables, so it was almost impossible to find a backpack. Now it's fixed and also backpack price decreased a little
Increased enemies appearance probability for a bit
In battle when targeting legs %ACCURACY% is multiplied by 1.5 instead of adding 50%, as it was before
Other changes
Fixed bug when enemies spawned in safe rooms
Frame rate is limited by 60
Files
Undervault (windows)
36 MB
Version 0.2.0
Aug 30, 2017
Version 0.2.0
Aug 30, 2017
Version 0.2.0
Aug 30, 2017
Undervault (android)
38 MB
Version 0.2.0
Aug 30, 2017
Version 0.2.0
Aug 30, 2017